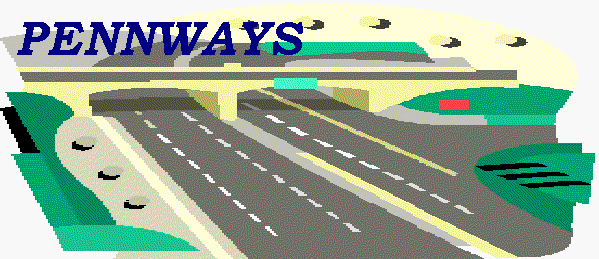 PENNWAYS

Highway and Transportation History Website
For Philadelphia and the Delaware Valley!
Mainly Highways, but Rail Transit also!
Following is a list of articles on this site:
(click to reach)

I-476 Mid-County Expressway
I-676 Vine Street Expressway
I-76 Schuylkill Expressway
I-95 Delaware Expressway
Regional Commuter Rail
Center City Commuter Connection (Commuter Tunnel)
Airport High Speed Line
Route 100 Light Rail Line (P&W RR)
Pennsylvania Turnpike - Abandoned Roadways and Tunnels
DE Route 1 - Korean War Veterans Highway
Chesapeake and Delaware Canal (C & D Canal)

Website by
Scott M. Kozel
Virginia, U.S.A.
E-Mail

This information is the result of 35 years of personal study of highway and transportation development. I worked for 10 years (1974-1984) in highway safety improvement design, highway construction inspection, and highway location & design; and in information technology since 1984. My highest education level is a masters degree in business. This site is privately developed, and has no association with PennDOT, SEPTA, VDOT, MDOT, WMATA, FHWA, or any other local, state, or federal transportation agency. I lived in the Philadelphia area for 5 years in the 1970s, so I know the area fairly well.

Website Change Log (**Check here for updates**)

Feel free to e-mail me and offer advice and/or additional material.

All photos taken by Scott Kozel unless otherwise credited.

Copyright © 1998-2005 by Scott M. Kozel. All rights reserved. Reproduction, reuse, or distribution without permission is prohibited.

My other highway and transportation history website, for Virginia, Maryland, and Washington, D.C. - Roads to the Future.

For many links to other privately-developed highway web sites, see James Lin's

AboutVia page.

The Usenet newsgroup news:misc.transport.road is the newsgroup where road history buffs discuss current and historical road issues. I am an active participant in misc.transport.road.

For links to Usenet newsgroups that discuss transportation (the ones I frequent) Usenet Newsgroups for Transportation

Official Websites


Pennsylvania Department of Transportation (PennDOT)
Pennsylvania Turnpike Commission
Southeastern Pennsylvania Transportation Authority (SEPTA)
Delaware Valley Regional Planning Commission (DVRPC)
Delaware River Port Authority (DRPA)
Delaware Department of Transportation (DelDOT)
New Jersey Department of Transportation (NJDOT)

Website installed Feb. 1, 1998.